Binance holds a staggering 91.57 trillion Shiba Inu tokens worth $797.57 million in four of its exchange wallets according to Etherscan.io data. 
The crypto exchange platform ranked Shiba Inu as the third most-watched cryptocurrency of 2022, after Bitcoin and Ethereum. 
SHIB token's trade volume is up 93% over the last 24-hours as the top 100 largest whales on the Ethereum network continue accumulating the Dogecoin-killer. 
Binance, the world's largest cryptocurrency exchange by volume has added 91.57 trillion SHIB tokens to its holdings, across four wallets. Data from crypto intelligence tracker Etherscan.io shows the crypto exchange platform's dominance in Shiba Inu holdings when compared to Crypto.com, KuCoin, Huobi and Bybit. 
Shiba Inu retained its position as a favorite among Ethereum network whales and trade volume climbed 93% over the 24-hour period between January 9 and 10. 
Also read: Here's what to expect from Shiba Inu price with spike in trade volume and the burn rate
Binance exchange platform holds nearly 16% of Shiba Inu's circulating supply
Binance, considered one of the largest cryptocurrency exchange platforms in the world, holds nearly 16% of the circulating supply of Shiba Inu. The second-largest meme coin's circulating supply is 589.36 trillion SHIB of which Binance's four wallets hold 91.57 trillion, based on data from Etherscan.io. 


Binance wallets holding Shiba Inu tokens on Etherscan
The exchange is one of the largest holders of the Dogecoin-killer meme coin in the crypto ecosystem, while competitors like KuCoin hold 4.15 trillion tokens, Crypto.com holds upwards of 55 trillion and Gate.io holds 5.28 trillion SHIB. 
Binance revealed Shiba Inu's popularity among traders on its platform, ranking it third among the most watched cryptocurrencies throughout 2022. The first two most watched cryptos are the two largest assets in the ecosystem, Bitcoin and Ethereum. 
Shiba Inu whale activity drives trade volume higher
The 100 biggest whales on the Ethereum blockchain continued accumulating Shiba Inu tokens, through the recent dip in the meme coin's price. SHIB token transfer by 100 largest whales on the Ethereum network recently hit a peak on January 7, accounting for the movement of 28.35 million SHIB tokens.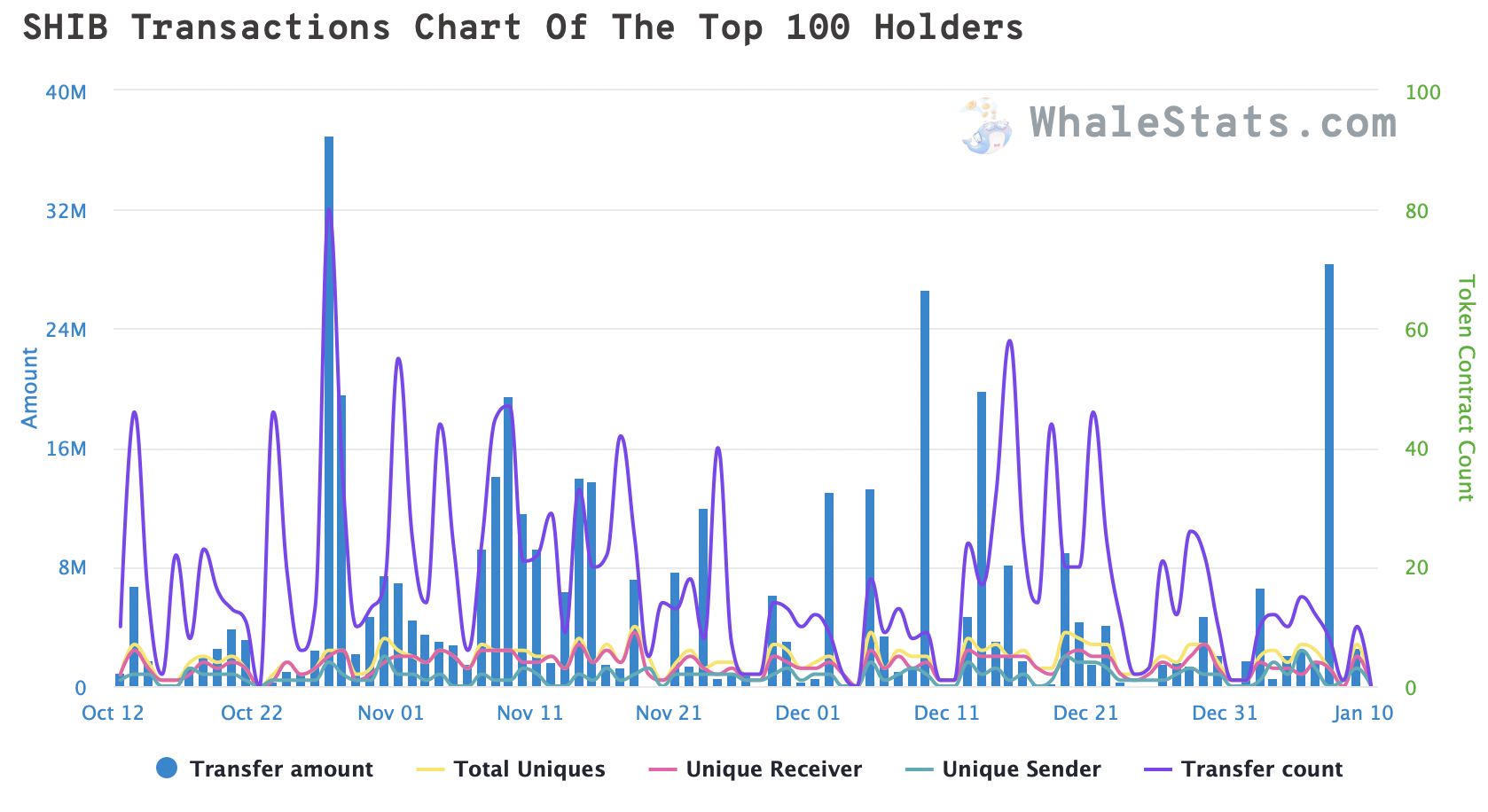 SHIB transactions of top 100 Ethereum network-based large wallet investors 
Based on data from coinmarketcap.com, Shiba Inu's trade volume is up 93% as whales and retail investors increase their activity and scoop up more SHIB or transfer value across the Ethereum-based token's network. 
Whale activity is not typically a bullish signal for Shiba Inu, however a spike in trade volume and increasing large volume transfers on the SHIB network signal rising relevance and utility of the token among holders in the ecosystem.